About Us
MFY is a Tokyo-based digital media company that specializes in bilingual video production. Our team has an ingrained familiarity with the Tokyo landscape and a commitment to meeting your needs.
With experience in both commercial and creative projects we are capable of tackling any task you set before us. Whether you are our local or international client we will undertake your project with an exceptional attention to detail, quality, and creative sensibility.
Services
Commercial

branded content
online/mobile
event videography
impact videos
presentation videos
highlight videos

Documentary

creative conception
storyboarding
onsite/studio shoots
editing
color correction
sound design

Coordination

location services
casting
research
logistics
permits
equipment rental

Graphics

branding
motion graphics
rendering
graphic design
custom artwork
animated sequences

Still Photography

event
portraiture
product
photojournalism
editing/retouching
advertising

Aerial Videography

commercial property
marketing imagery
mapping/survey
infrastructure
indoor/outdoor
action sports
Beyond a beautiful image.
Work
YAMAHA

GCI Asset Management

MIMAKI ENGINEERING

Jena
Our Team
Tsuyoshi Satoda

Tsuyoshi is a corporate image consultant who energizes small and medium sized enterprises by visualizing the appeal of their work. A Kansai University graduate, former TV TOKYO director, and former freelance journalist at TBS, he is now the principal at Media For You since 2006. With the production skills he cultivated working in televisionand film, he is interested in visualizing the attractiveness of SMEs.

Ami Netsu

Ami is an editor and designer with a concentration in CG from Niigata Computer Vocational School. As a tech polymath she is an integral asset in the video production process at Media For You. She is fully versed in the Adobe Suite and in DaVinci Resolve. She is most interested in editing as a means of storytelling. She is also a serious animal lover with two beautiful cats here in Tokyo and a dog back at her hometown in Niigata.

Dugan Lunday

Dugan is a coordinator, designer, and concept developer. Applying the amorphous liberal arts education he received at Sarah Lawrence College and his experience working in the design field in NYC, he is currently focused on mapping the terrain of intercultural video production in Tokyo and thinking about issues relating to the responsibility of a documentarian in portraying a culture one is not affiliated with.
Equipment
Cameras

Canon EOS C200
Sony a7S II
Sony a7R III
JVC GY-LS300CH
GoPro Hero 7
GoPro Hero 6
GoPro Hero 4 (x2)
DJI Osmo+
DJI Phantom 4
DJI Mavic Air

Lenses

Canon CN-E 70-200mm T4.4
Canon CN-E 18-80mm T4.4
Canon EF 24-105mm f/4L IS USM
Canon EF 16-35mm f/4L IS USM
Vario-Tessar T FE 24-70 mm F4 ZA OSS
Sonnar T FE 55 mm F1.8 ZA
Sony FE 70-200 mm F4 G OSS
Samyang 7.5mm f/3.5 UMC Fisheye MFT
Voigtlander Nokton 10.5mm f/0.95
Voigtlander Nokton 42.5mm f/0.95
Voigtlander Nokton 58mm f/1.4 SL II
Voigtlander Nokton 17.5mm f/0.95
Olympus M. Zuiko 12-40mm f/2.8 PRO
Metabones Canon EF Lens to MFT T
Sigma MC-11 EF to Sony E

Audio

Tascam DR-10L
Tascam DR-70D
RØDE NTG4+
RØDE NTG3
Schure SM63L
RØDE Podcaster
AKG PCC-160
Sanken COS-11D
Sony URX-P03 + URX-B03 (x2)
RØDE VideoMic Go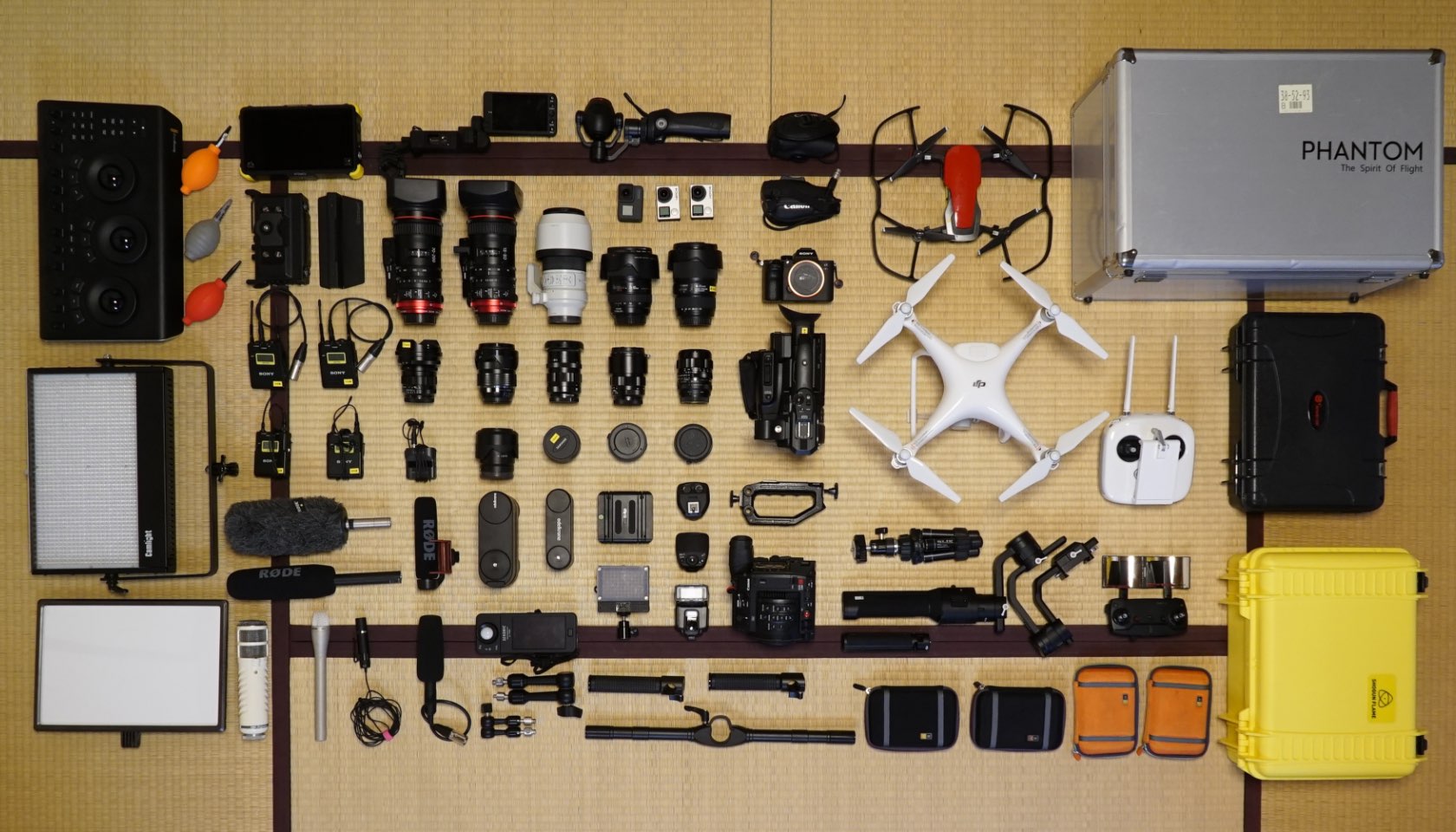 Contact Us
Media For You

4-27-4 Kinuta
Setagaya Tokyo
157-0073 Japan
(+81) 3-6386-8409